HTML5 is set to take over HTML as the successor of the web. Among the various interface enhancements that HTML5 offers for structuring and presenting content includes a zooming UI. There are a number of HTML5 based tools that have become available in recent years for making presentations. HTML5 apps are not only a viable alternative to PowerPoint but come with more flexible features and an amazing presentation interface. Below are some apps that you can use for making presentations with the power of HTML5 and that too without any kind of programming knowledge.

Presentation Next
While the Windows App Store still lacks many useful apps, it doesn't mean that it does not have some hidden gems. Presentation Next is a Windows 8 app for making HTML5 presentations right from the Modern UI. With Presentation Next you can create interactive presentations on your Windows 8 computer or tablet and save them as HTML5 files, which can even be shared via email or cloud services. Moreover, you can also play the saved presentations from an internet browser to present them like PowerPoint presentations.
Go to Presentation Next
iSpring Pro
This is a powerful PowerPoint add-in for making video presentations with voice over and cam input. You can record entire presentation sessions and comprehensively edit them with iSpring Pro. Once a presentation is complete, it can be saved in various formats including HTML5 and even shared online.
Go to iSpring Pro
Slides
If you are looking for a very basic web app for making HTML5 presentations, then Slides is just what you need. It comes with readymade background styles and basic formatting options to help you create HTML5 presentations in no time.
Go to Slides (Web App)

EWC Presenter
This is a web app which provides easy to use options for making interactive presentations, product demos and advertisements in HTML5. Everything within this web app is available in a Graphical User Interface (GUI), which means that you can create amazing interactive presentations in just a few clicks.
Go to EWC Presenter
Label 59
Label 59 is another fine web app for making Flash and HTML5 based presentations by simply uploading images and adding markers to them. When these markers are clicked, they trigger a response from within the slide to play your pre-defined video or other selected content. This method enables easy creation of interactive online presentations.
Go to Label 59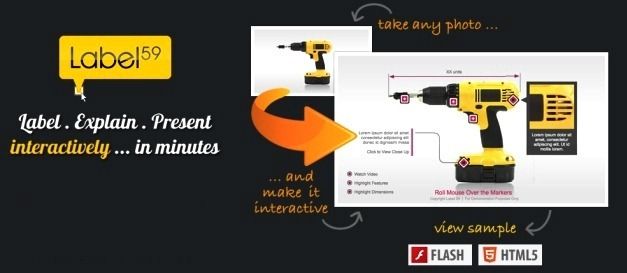 Articulate Storyline
This is an application for Windows and Mac for making e-learning courses and presentations with a comprehensive set of advanced features. Articulate Storyline allows publishing your projects to Flash, HTML5 and iPad compatible formats.
Go to Articulate Storyline