Making screencasts from your PowerPoint presentation slides, documents, images and applications can be done by using a video capture software which may record your on-screen proceedings, as you explain the details with a voice-over and sometimes, also with recording from your cam.
There are a number of handy tools which can help you make a video presentation by recording your desktop, voice and cam. Here are a few free and paid video capture software for making professional video presentations.
Related: Best Methods for Making Video Presentations on Mobile Devices
BB FlashBack Express (Free)
This is one of the best free screen recording applications you are ever likely to find. It comes with built-in features that enable recording the desktop and a player to preview your recording before you can save it as an AVI or FLV video file. While the free version of this software works perfectly, you can also opt for the paid editions to get more enhanced features such as the ability to edit your recorded videos.
This software is compatible with all major versions of Windows, even the latest Windows 10.
Learn More about BB Flashback Express here.
Free Screen Recorder (Free)
This is another easy to use free screen recording software for Windows based operating systems. It is fairly simple to use with some extra options which allow you to adjust the brightness, darkness, contrast, noise effect, etc. Moreover, you can choose to rotate the screen and apply grayscale, sepia or reverse colors.
You can find out more about this free video capture software from the link below which provides the download link for the software, with a detailed review of how to use Free Screen Recorder.
Note: This application tries to install a lot of extra apps and for this reason, it might be identified as malware by your anti virus. This is because lately adware supported apps are being identified as threats because they install unwanted software. You can avoid installing the accompanying software by clicking 'Decline' when you are asked to install such apps during the setup.
Go to Download Free Screen Recorder
Screenr (Free)
This is not a desktop software but a web app which makes it perfect for use across various operating systems. All you have to do is to visit the Screenr website to begin recording your desktop. However, it is worth pointing out that this web app works only with Java-powered devices.
Once the video is recorded and encoded it can be downloaded offline or uploaded online.
Go to Screenr
Camtasia Studio (Premium)
With versions available for Mac and Windows, this is one of the most famous screen recording applications. It is a complete suite for recording and editing screencasts, with a plugin for PowerPoint that supercharges your slides with the ability to record your screen, audio and camera.
Go to Camtasia Studio
Lectora Inspire (Premium)
After Camtasia it would have been no surprise to mention Snagit, which is another video capture software by the same developer, i.e. TechSmith; however, we decided to mention something even better. Lectora is a premium video recording suite that integrates Camtasia, Snagit and Flypaper software to provide you the best of all three applications. While you get screen capture and comprehensive editing options via Camtasia and Snagit, you also get the utility to play with flash and other types of video files using Flypaper. You can learn all about Lectora from the link to our review (given below).
Go to Lectora Inspire
Articulate Storyline (Premium)
This is an application suite for making e-learning courses, a video presentation and animated content. With Articulate Storyline you can create elaborate animations with animated characters by creating your scenes like a PowerPoint slide. You can also import content from PowerPoint, insert quizzes and export your projects to HTML5, Flash and iPad compatible (Articulate Mobile Player) format. Furthermore, you can also publish your projects to the web.
Go to Download Articulate Storyline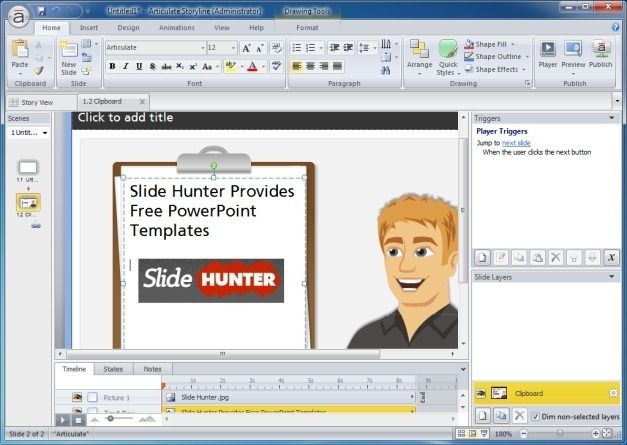 Create Screencast with PowerPoint
PowerPoint has a Screen Recording feature that allows you to record screens easily. If you don't want to rely on any of the previous screen recording tools, you can use the latest version of Microsoft 365 and enjoy the screen recording feature.
Final Words
With these tools reviewed above, you can make screencasts easily (without hassle) from your PowerPoint presentation slides, documents, images and applications. Aside from the tools reviewed, PowerPoint also added functionalities to record your screen.