Free Porter's Five Forces Diagram with Petals for PowerPoint is an awesome representation of the popular Porter's Five Forces diagram used in Porter Five Forces analysis.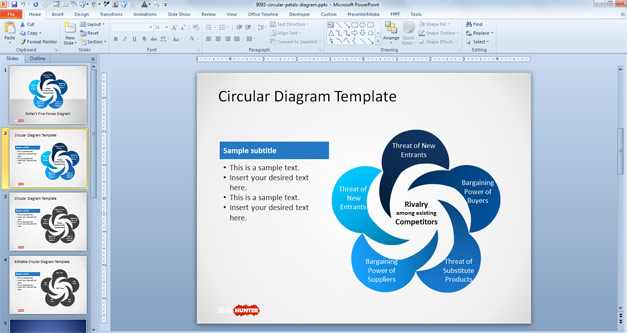 Porter's Five Forces Analysis is a framework for industry analysis and business strategy development.
You can download this template with an original representation of the popular Micahel Porter's Five Forces diagram created with a circular diagram with petals and blue gradient styles. Alternatively you can download other free Five Forces Analysis PowerPoint diagrams for presentations.
There is a plain design using solid gray color that you can use instead.  And if not less you can download this circular petals diagram for PowerPoint presentations to customize the diagram for any other presentation needs or purposes. For example, you may create a custom diagram of up to five steps.