Analog Clock PowerPoint Template is a nice clock diagram design that you can download for free. This free analog clock design for PowerPoint presentations can be used as a timer in your presentations but also in corporate dashboards if you are planning to prepare a business PowerPoint presentation in Microsoft PowerPoint 2010 and 2013 and samples of PowerPoint presentations.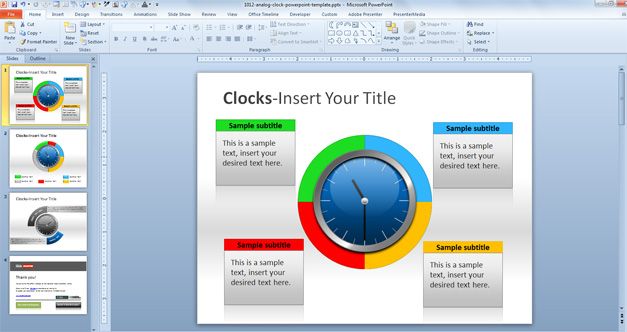 You can use this analog clock for PowerPoint 2010 and 2013 to:
This free editable clock diagram for PowerPoint or circular flow chart template contains an analog clock design using shapes and you can easily edit the text inside the shapes boxes. The clock is divided in four editable segments or time frames as you can see in the example above and you can also use any of the three available slide designs.