Free 3D Four Arrows PowerPoint Template contains a nice design with four arrows pointing to the outside from a central point and and business man silhouette is a good presentation design and visualization diagram that helps to make presentation slides for comparison and describing product features, goals or four different ways and approaches to follow or opposite directions.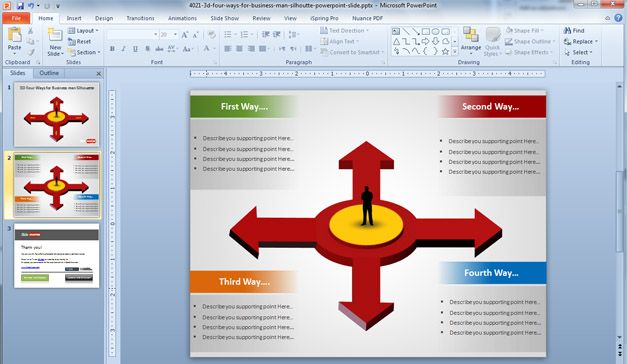 You can use this template for multiple presentation needs including strategic goals definition, business planning as well as project plan presentations in PowerPoint. The slide design comes with a nice business people silhouette in the center of the four arrows and you can use this four arrows as a platform design to include other shapes on top.
Alternatively you can download other slide designs with four arrows pointing inwards or to a center logo and free diagrams for presentations. In this case, the slide design contains four arrows pointing to the outside of the slide and a businessman silhouette in the center of the slide design.
There are some text boxes ready to be used to add your text and you can use this template as an alternative to four blocker PowerPoint slide designs. There are other useful PowerPoint presentation templates including the four quadrant PowerPoint slide design that you can use to show 4 blocks of text like the Ansoff Matrix.